I recently read that another restaurant has converted to a no tipping policy. This much-discussed trend has dominated conversation among restaurant staff, and rightly so. Any time your source of income is threatened or changed in any way, it can create an anxious environment. But will this growing movement mean the end of the Sommelier? I recently posed this question to some of the local Sommeliers for their take.
Before we start, we all know that in the U.S., tipping is the norm. There are very few places where services are offered, where there is not a line on the charge card slip, or the ubiquitous tip jar conspicuously placed by the register for customers to leave tips. Heck, I even give tips to the mechanics that work on my bikes! It is ingrained in American culture. However, I believe this move to eliminate tipping and charge higher prices has three primary motivations. First, it makes sense to a restaurant owner to level the playing field. The back of the house will get a little more money, and the front of the house will get a competitive wage. The pay gap between front of the house and back of the house would be narrowed. Secondly, the owner could also choose to improve benefits, something that has always been a sore spot for all restaurant employees. The final point is customers no longer need to "grade" service, then do the math before leaving the tip. I'm sure there are more reasons, but these three reasons are compelling.
For the Sommelier, talk of compensation can be a bit more challenging. It's somewhat of a hybrid position. One can find a Sommelier just as easily helping a guest decide what red Burgundy would be best with his duck entrée, as he would running dinner plates out to a table so the food doesn't get cold. Kind of like a pseudo-manager, but not at the same pay scale. I really believe that this versatility is one of the reasons we have seen an explosion of Sommeliers in the last decade. But will this move to no tipping see a shift in the Sommelier position?
Brandon from San Diego states: "Restaurant groups such as the Thomas Keller Restaurant Group and Michael Mina will continue to attract, groom and retain talent, regardless of tips. The idea of improving wages for our industry (back of the house primarily), is essentially to retain skilled culinary pros, but we also need to continue to reward talent in the front of the house. Personally, I enjoy tipping. I like the incentive it offers. My salary includes incentives that I would struggle to meet if tomorrow my prices went up 25%."
Allegra in San Francisco is against the no-tipping movement. She cannot understand how a restaurant owner can pay everyone "equally" when skill levels are different. She adds that because of the recent increase in the minimum wage in San Francisco, she fears that if everyone went to a no-tipping policy, many smaller restaurants would close.
Dawn from Seattle doesn't think the change will have that much effect on her. As an hourly paid Sommelier, she is part of the tip pool, but by the time the wine team gets tipped out and the Wine Director gets their percentages, the amount is so small it doesn't make that much difference.
Troy in Laguna Nigel actually would prefer to move to a no-tipping policy. He points to the "mercurial" nature of our business. He says: "I'm sure we've all served that table who has spent a considerable sum on dinner, only to leave a disappointingly small gratuity, because they didn't tip on the wine." That sense of security from a set wage would overcome those occasional "bumps" in the road. He also points to the fact that by moving to a no-tipping policy, "more people would view hospitality as a potential career rather than a way to make a few bucks while their acting career gets going."
It sounds like there are a number of perspectives on this subject. Having worked on the floor as a front of the house employee, I sympathize with their concerns, but I can also see some validity in the movement. It will be interesting to see if this trend continues or fizzles out. Cheers!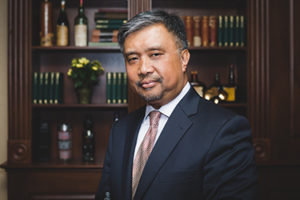 About the Expert: Reggie Narito, Master Sommelier
Reggie Narito is a Master Sommelier and wine educator for Young's Market Company. As Vice President of Fine Wine for The Estates Group, Young's fine wine division, Reggie offers more than 25 years of expertise for all channels, customers, and consumer markets. Reggie's strong command of fine wine and advanced knowledge of the distribution industry provides a platform for him to lead educational wine seminars across the ten markets where Young's operates.
Reggie has been featured in the popular wine documentary film SOMM, Esquire Network's series Uncorked, and multiple media publications. Reggie is known for his big personality, colorful storytelling, and is sought after for his insight on fine wines from around the world.