I read a terrific article recently, and the subject is one that many of my restaurant friends are all too familiar with: Corkage. Corkage is nothing new. Anyone who wants to bring in a bottle of wine are welcome to do so, but they are charged a corkage fee to make up for lost revenue. After all, it does cost money to serve the wine, including glassware and other tools to serve (if necessary). Most people don't have a problem with corkage, but there is a growing phenomenon of the well-to-do who bring in trophy wines, then expect the fee to be waived if they offer a taste for the sommelier or owner. I've spoken with a few restaurant owners and surprisingly they do not all agree on a solution. Some have no problem with this tact, while others have a big problem with it. Let's take a look at both sides.
Corkage is meant to cover lost revenue when someone brings in their own wine. Wine lists offer a wide array of selections and the pricing includes profit margins that are big money makers for any establishment. When someone brings in their own wine, not only is this profit lost, but the added cost of serving the wine, pouring the wine into glassware, including decanters if needed, and the cleaning of these resources can add up over time. During the economic downturn of 2008-2010, many restaurateurs commented that corkage spiked. It's pretty easy to understand why. Expense budgets were cut, or people's personal wealth took a hit. Dining out suddenly became a lot more expensive. It's not surprising many people resorted to bringing in wine from their own collection to help cut costs. Sympathetic restaurant owners began to relax their corkage policies during this time, either waiving fees all together or coming up with "corkage free Tuesdays" which addressed the difficult times, but also limited their exposure to slower days in hopes of growing business on those days. From a business standpoint, corkage is a sound policy. Most corkage fees are rarely outrageous, generally costing anywhere from $25-$50, and regardless of how precious and rare a wine is, the inherent costs remain the same. The argument goes, "So if someone brought in their own chicken, would you cook it for them for free?" The example is a bit extreme, but you get the point. If someone brings in a case of wine, and this is more common than one might think, a considerable amount of time is spent expediting service of this wine. Who gets stuck with the cost for this? The owner does. It doesn't make good business sense to waive corkage fees.
A restaurant owner I know had a different take on corkage. He believes that the people who bring in their own wine tend to spend more than the average guest, and if he doesn't waive corkage fees, he risks alienating them and losing their business for good. If the average guest check at your restaurant was $75 and the guest bringing in their own wine spent $125 per person, it would make sense to waive the fee. After all, each seat is rented space and if someone is spending $50 more per person to sit in their seat, the lost revenue of waiving a $30 corkage fee in favor of getting an additional $100 for two people is a good trade off. The only problem would be if the guest DIDN'T spend more than average, and if you've worked in the restaurant business for any amount of time, this is possible as well. Still, the point is well taken. Very few restaurants are in a position to turn away business, regardless of how much they spend. If indeed you have regular customers who like to bring in a few bottles from time to time, do you want to risk their wrath and possibly losing their business by charging them corkage?
It is a fine line we walk when it comes to corkage. If corkage is a recurring problem in your establishment, it doesn't make sense to waive the fee – you'd lose too much money, even if it is rare or valuable. However, if your best customers are bringing in wine and don't mind spending a little bit more, why would you want to lose that business? The choice is yours. Cheers!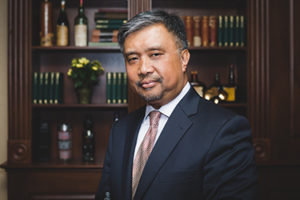 About the Expert: Reggie Narito, Master Sommelier
Reggie Narito is a Master Sommelier and wine educator for Young's Market Company. As Vice President of Fine Wine for The Estates Group, Young's fine wine division, Reggie offers more than 25 years of expertise for all channels, customers, and consumer markets. Reggie's strong command of fine wine and advanced knowledge of the distribution industry provides a platform for him to lead educational wine seminars across the ten markets where Young's operates.
Reggie has been featured in the popular wine documentary film SOMM, Esquire Network's series Uncorked, and multiple media publications. Reggie is known for his big personality, colorful storytelling, and is sought after for his insight on fine wines from around the world.