At the end of this year, In Pursuit of Balance will conclude its operations. Co-founders Jasmine Hirsch and Rajat Parr set out to shed light on wines that displayed restraint, with equal emphasis placed on structure as well as ripeness in 2011. Although the movement could hardly be described as industry changing, I believe they got their point across. The question is: What did we learn from all of this?
I do not personally know Jasmine Hirsch, but I know of her wines and always found them to be more subtle than powerful and always reflecting their cool climate origins. In a blind flight of Sonoma Coast Pinot Noir, her wines might get lost in the shuffle, but by themselves, the wines grow on you. I think they are very good examples of cooler climate (as cool as California can get) as you will find in the market.
I have known Raj Parr for almost 20 years, dating back to his days at Rubicon with Larry Stone, then at the Fifth Floor, and of course, his time with Michael Mina. He is unquestionably one of the finest sommeliers in the United States, and his hard work and belief in self has spawned his own restaurant(s) and wineries. He is friendly, a diehard basketball fan, and above all, quite opinionated about his wines. There was a time when he was buying wine for his RN74 restaurant where he would refuse to taste wine that was over 13.5% alcohol. I have no doubt this is what spawned IPOB.
IPOB has drawn its share of criticism. Some criticisms were just incessant ramblings that had more to do with the critic than with IPOB, while others had more salient points.  Probably the one criticism that held the most water is when critics pointed out that most of California is too warm to produce the kind of structure that IPOB advocated and we should be concentrating on what the state does best – robust wines with forward fruit, softer tannin and lower acidity levels. It has proven successful for decades, why change now? I think these critics miss the point.
Regardless of what side of the fence you stand, no one can deny that American wine culture is changing. Not a single person can say that the wine drinkers of today are the same as they were 30 years ago. The American wine drinker today is more knowledgeable and has more offerings than ever before. Above all, they are experiencing wine with food, and as someone who teaches others about pairing wine with food, I can tell you that wine tastes different with food. It is my experience that wine with good structure makes for a better wine pairing. The structural elements of acidity and tannin elevate the core flavors of food to make them taste better – something like adding salt and pepper to food.  Now, I am in no way saying these are the only wines we should be drinking; there is plenty of room for all types of wine. But with so much talk about diversity, shouldn't we celebrate what a wine is, rather than criticize it for what it's not? Why can't we celebrate wines with lower alcohol and higher acidity, just as we should celebrate robust fruit forward wines with higher alcohol and lower acidity?  Life's too short to spend time worrying about a wine we won't drink…let's just focus on what makes us happy. There are so many choices!  Cheers!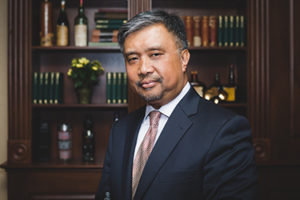 About the Expert: Reggie Narito, Master Sommelier
Reggie Narito is a Master Sommelier and wine educator for Young's Market Company. As Vice President of Fine Wine for The Estates Group, Young's fine wine division, Reggie offers more than 25 years of expertise for all channels, customers, and consumer markets. Reggie's strong command of fine wine and advanced knowledge of the distribution industry provides a platform for him to lead educational wine seminars across the ten markets where Young's operates.
Reggie has been featured in the popular wine documentary film SOMM, Esquire Network's series Uncorked, and multiple media publications. Reggie is known for his big personality, colorful storytelling, and is sought after for his insight on fine wines from around the world.