Rosé wine has been a popular beverage for centuries, however in the United States, we have been slow to embrace this flavorful style of wine. Just five years ago, I'd bet if you asked the casual wine drinker what rosé was, they'd say White Zinfandel. While this answer would be technically true, White Zinfandel captures only a tiny portion of the rosé category. Interpretations can be found throughout the world and are every bit as serious as the white and red wines, and they have really caught steam in the U.S., especially in California. Here are some of my favorites…cheers!
2008 Iron Horse Brut Rosé, Sonoma – I have long been a fan of Joy Sterling's wines. Made from 100% estate grown fruit, her vineyards occupy some of the coolest portions of Sonoma's Green Valley. This attractive sparkling rosé is primarily Pinot Noir, with a little Chardonnay added for complexity and structure. Only 1,500 cases of this beautiful wine was made. It won't be in the market long
2015 Chateau Gassier Esprit du Gassier, Provence – As I had mentioned earlier, rosé wine is made virtually everywhere where wine is made. If I had to choose my favorite rosé destination, it would have to be the south of France. Here, rosé is indelibly etched into local culture. It's easy to see why when you try a rosé from Chateau Gassier. Full of delicate wild strawberries and cherries, I really think this wine takes rosé to the next level!
2014 Artazuri Rosado Garnacha, Rioja – Artazuri Rosé is one of best-selling rosés in our portfolio. The quality is high and the price is attractive. I really think Grenache and their blends make some outstanding rosé
NV Domaine Serene "R", Willamette Valley – This pretty Oregon wine is something I think we'll be seeing more and more. A non-vintage Pinot Noir based rosé wine. Much like a non-vintage brut, not having a vintage allows for consistency, which is a good thing because vintage variation can be an issue in Oregon. However, because the climate in Oregon is cooler than what we traditionally see in California, the structural elements really hold these wines in place. This wine is a definite crowd pleaser!
2015 Gerard Bertrand Gris Blanc Rosé, Languedoc-Roussillon – This wine straddles the boundaries for what is rosé and what is not. A blend of Grenache and Grenache Gris, this very lightly colored wine still delivers in the flavor department. Scents of red berries fill the glass and the stony minerality takes this wine to another level!
2015 Bieler "Sabine", Coteaux d'Aix en Provence – Now in its 11th vintage, the Bieler Rosé is our best, if not one of our best-selling rosé wines in our book. A blend of Grenache, Syrah, Cabernet Sauvignon, Cinsault and Rolle, this is a stellar rosé in every sense of the word. It's a very aromatic wine that will not disappoint. This would be a perfect wine for a Memorial Day picnic!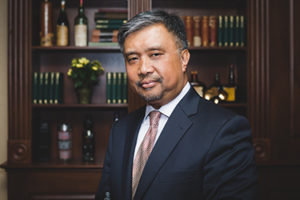 About the Expert: Reggie Narito, Master Sommelier
Reggie Narito is a Master Sommelier and wine educator for Young's Market Company. As Vice President of Fine Wine for The Estates Group, Young's fine wine division, Reggie offers more than 25 years of expertise for all channels, customers, and consumer markets. Reggie's strong command of fine wine and advanced knowledge of the distribution industry provides a platform for him to lead educational wine seminars across the ten markets where Young's operates.
Reggie has been featured in the popular wine documentary film SOMM, Esquire Network's series Uncorked, and multiple media publications. Reggie is known for his big personality, colorful storytelling, and is sought after for his insight on fine wines from around the world.