I recently traveled to China as an ambassador for the California wine industry. I was accompanied by fellow Master Sommelier Tim Gaiser, Barbara Insel (owner of the Stonebridge Institute), and two interpreters. Our goal was simple: introduce California wines to the various channels of the Chinese wine industry. The trip lasted only seven days, but the things I learned will stay with me for much longer.
Allow me to begin by saying I have always marveled at the many facets of Chinese culture – its people, history, food, and economy all have caught my attention at one time or another. However, the wine culture was never on my radar. If you go back only twenty years ago, vineyard plantings were spotty and consumption versus the rest of the world barely registered. Now, I read that China is the sixth largest producer of wine in the world and national consumption has been rising exponentially in the last 10 years. If you consider China's population (1.3 billion inhabitants), you can see why so many in the California wine industry are looking at China with more than casual curiosity.
California wine is not new to the Chinese. The California Wine Institute (CWI), an organization that represents over 500 wineries, has been marketing California wine in the country for almost twenty years. However, CWI's largest constituents are wineries such as Gallo and Constellation, so it's no surprise to anyone that most Chinese think California wine consists of Carlo Rossi and Mondavi Woodbridge. That's a good thing, and a bad thing. It's good that the Chinese people are aware California makes wine; but, it's bad that they think California wine is inexpensive and lower quality when they compare it to the wines from France and Australia – Ching's two biggest wine importing countries. France and Australia invest millions of dollars annually marketing their wines, and it clearly shows. Most of the retail and restaurant outlets we visited were dominated by wines from these two countries. California's efforts are still relatively new and not nearly as complex and involved. It was rather nice though to think I was on the cutting edge of something new. But, I was not an ambassador for the California Wine Institute… I came as an ambassador for the Family Winemakers – an organization of 450 wineries, whose primary difference from CWI is that its members are from smaller wineries producing less than 35,000 cases per year. Although quality was our chief advantage, investment dollars was our main disadvantage, and when you are talking about a country the size of China, money plays a key role.
The Chinese government plays a major role for any wine importer. First, there is a 44% tax on every case of wine imported into the country – and that's a stiff tax any way you look at it. Secondly, and probably more curious, is their "quality control" practice of taking three bottles out of every case. That's right: 25% of every case you ship into China is now the property of the Chinese government. Imagine the investment a winery has to commit to make money in wine in China. If it weren't for the sheer size of the country where small gains can add up to big profits, most wineries would stop at this point. But many forge onward, and while government officials are aware of the excellent quality of California wine, retailers and restaurateurs surprisingly don't place quality high on the decision-making ladder when buying wine.
One of the most surprising discoveries for me was that wine quality had little influence on Chinese retailers and restaurateurs. Many were primarily focused on kickbacks and incentives as buying "hot buttons". If you were offering money to the buyer in exchange for a sizeable purchase, your chances for success were much higher. It almost seemed like a stacked deck, but in all fairness, I could sense the tide turning, albeit slowly. Sommeliers and boutique wine shops are beginning to sprout in growing numbers in major cities. Their targeted demographic – younger professionals – seems to be growing in popularity. It is this trend that keeps me hopeful about the Chinese wine market.
One thing I will have to say about the Chinese is that they are voracious learners. Our classes were always full and our attendees were attentive with excellent questions. They were very interested in California wine, and when we tasted some of the top producers from our state, they had no idea the quality of California wine could be this good!  Just make sure if you are talking to someone from Mainland China about wine, you don't compare them with Hong Kong. Hong Kong to them is Mars and are quick to correct when you mention it. At the end of every class, many stayed to tell us how much they enjoyed the class, and for an instructor, that's always a good thing!
I truly believe there is a future for California wine in Mainland China. As more and more people learn about the fine wines from our state, the numbers will grow organically – and they already are. However, there are obstacles to overcome. The prevailing way of doing business in China is going to have to change. The deck cannot be stacked so much in favor of the buyer – a profitable business cannot sustain this practice. The government will also have to ease some of their taxes and quality control measures – this may prove too big a hurdle for smaller wineries to overcome. However, I do think that as the Chinese drink more wine and it becomes more a part of everyday life, I see a flourishing wine trade in the future for California wine in China.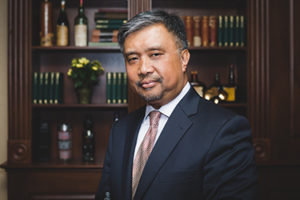 About the Expert: Reggie Narito, Master Sommelier
Reggie Narito is a Master Sommelier and wine educator for Young's Market Company. As Vice President of Fine Wine for The Estates Group, Young's fine wine division, Reggie offers more than 25 years of expertise for all channels, customers, and consumer markets. Reggie's strong command of fine wine and advanced knowledge of the distribution industry provides a platform for him to lead educational wine seminars across the ten markets where Young's operates.
Reggie has been featured in the popular wine documentary film SOMM, Esquire Network's series Uncorked, and multiple media publications. Reggie is known for his big personality, colorful storytelling, and is sought after for his insight on fine wines from around the world.